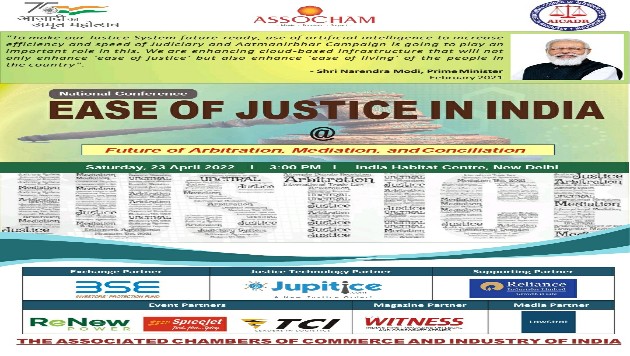 23 Apr 2022
National Conference : EASE OF JUSTICE IN INDIA
On Monday, 23.04.2022 selected students Payal, Bhavya, Rajan, Akshita Khushi and faculty from IAMR Law College, Ghaziabad Santosh Sati and V.K. Yadav attended a National Conference "Ease of Justice in India: Future of Arbitration , Mediation and Conciliation" organized by ASSOCHAM at India Habitat Centre, Delhi.

Justice Dipak Misra, Former CJI, joined the National Conference through video-conferencing due to some unavoidable circumstances. He discussed about current status and applicability of ADR mechanism and recent amendments and changes in legal framework. He discussed about the proposed amendments related with arbitration, mediation and conciliation. He also discussed the enforcement related challenges and suggested how technological advancements can redress the same.
Justice(rtd.) J.R. Midha, Delhi High Court, emphasized on how the ADR can ease the judicial system mainly due to inordinate delay. He talked about the rapid growth of ADR Mechanism in India and factors responsible for it . He also talked about the role of legality and morality in Judiciary, mediation and arbitration.